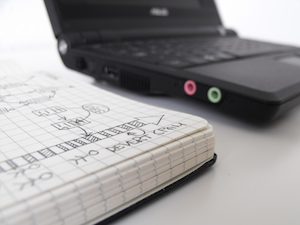 Written by Isabel Fasciano
What is the difference between Microsoft SharePoint and an Electronic Lab Notebook (ELN)? While both are designed to store and share data, thus fostering business communication and collaboration, an ELN has the added advantage of being uniquely designed to satisfy the needs of the scientific community's workflows, information viewing, and built-in compliance with regulatory requirements such as 21 CFR Part 11.
Microsoft's SharePoint allows a variety of documents to be accessed, viewed and edited by multiple users. Its features include automating business processes and workflows, check-in/checkout, version control, document organization, control of system privileges, and alert generation. With familiar tools such as the web and Microsoft Office, minimal skills and setup are required to use SharePoint.
Research organizations face this decision often. "It simply [was] not an option for NAABB to use complex product suites from vendors who are compelled to build custom solutions.  We knew that LIMS or CMS like SharePoint or Documentum would be too costly to configure and customize," said Meghan Starbuck, Director of Economic Sustainability and Data Management at Danforth Labs. Starbuck led the ELN selection committee for NAABB, the DOE-funded bio-fuels research consortium.
However, issues with SharePoint exist. Certain features are available only with Office products; relying heavily on Microsoft limits the selection of Web servers and database servers. SharePoint is not able to comply with the regulatory requirements of scientific laboratories without extensive customization. SharePoint does not index all content, making the search for every piece of relevant data impossible. Data cannot be preserved from scheduled or ad hoc deletion. Also, queries cannot return all data, and complex, scientifically meaningful queries cannot be generated. Finally, the costs and requirements in building and customizing such a system can far exceed an organization's budget.
ELNs also provide means to house and share information. However, unlike SharePoint, ELNs can capture and record experimental data. The data structure in an ELN mimics that of an experiment set out in a typical paper lab book, a device an ELN is intended to replace. Other differences are evident:
All data in an ELN may be fully searchable and retrievable.
ELNs are readily configured to comply with the requirements of a regulated environment, such as Title 21 CFR Part 11.
An ELN backs up data to prevent unintentional deletions.
Instrument data can be directly incorporated into ELNs.
ELNs can be standalone programs, use a client-server model, or be entirely web-based.
Scheduling options are available for such tasks as equipment qualification and study related timelines.
One leading ELN is IDBS' E-WorkBook. It has one generic ELN platform, which promotes controlled data sharing across departments, sites and external collaborators. Out-of-the-box support is provided for Microsoft® Office, image formats and Adobe® PDF. Data can be exported to Microsoft Word with one click. Powerful search and query tools are available. Data can be viewed in different ways, significantly impacting discovery development. Its electronic and digital signatures are certified by SAFE-BioPharma, the pharmaceutical industry's signature standards body. IDBS offers additional product modules for synthetic chemistry workflows and for bioanalytical data management (BioBook). There are platform limitations, however. First, support is only provided for an Oracle database. Second, E-Workbook cannot be installed on Mac machines.
Another leading ELN, Rescentris' CERF, is able to work with any database and is installable on both Mac and Windows machines. CERF is compatible with Microsoft Office file types, and boasts other benefits:
The secure CERF server consists of a server application, a file system containing raw data, and a referential database. By separating the database and file system, CERF does not slow down as data accumulates. Data in the file system remains in its original, native file formats, allowing for easy data extraction. The referential database contains only information about files so it rarely exceeds 5-10 GB in size.
The CERF client software is free; organizations only pay per user.
CERF has simple implementation models and infrastructure needs and CERF requires minimal IT maintenance.
CERF is based on open industry standards, including W3C semantic web technologies, making updates to outdated modules and IT technologies, and additions of new ones, easy.
Any item, from tables, captions, and images to screenshots, documents, and voice annotations can be dragged and dropped directly to CERF, giving meaning and completeness to metadata that might otherwise be unsearchable.
Metadata is automatically generated and associated with every file and entry as they are added.
Relationships among experiments, literature and documents, and the evolution of data, can be tracked and viewed.
Change of user behavior is minimized because CERF works the way virtually all workflows and favorite applications already do.
SharePoint and ELNs both have their advantages. SharePoint is geared more toward the needs of the general business community while ELNs are more equipped to cater to the needs of the scientific community. There are also some ELNs built on a SharePoint platform; however, for most research organizations, these have the same limitations as SharePoint itself, specifically that without a rich and interactive client application, there is limited ability for scientists to utilize their own desktops and applications to productively conduct their work. Instead, web-based systems are more appropriate as reporting environments in which to upload or download data that scientists have authored or collected on their desktops. In conclusion, there are many ELNs from which to choose, and labs should make decisions based on many factors, including operating systems, types of research and workflows, and the level of IT support required. Two of the leading ELNs that each have their own merits are CERF and E-Workbook.
About the Author:
Isabel Fasciano has a Bachelors Degree in Computer Science and a MBA in Technology Management. She has worked with laboratory systems for over a decade in roles such as systems analyst, systems developer, and systems administrator. Fasciano is currently the President/CEO of consulting firm Quality Systems Consultants. She is always seeking new challenges, opportunities, and learning experiences; visit her blog Thoughts on Laboratory Software at labsoftthoughts.com.