No other ELN solution offers all of the capabilities of CERF ELN!
CERF ELN has a powerful, proven feature set
CERF is the Electronic Lab Notebook (ELN) built for scientists, by scientists. We've listened carefully to what our customers have told us over the years, and the result is the most comprehensive and flexible ELN on the market.
CERF is more than just an Lab Notebook. It can also be used as a full-featured Enterprise Content Management (ECM) or Scientific Content / Document / Resource / Research Management System (also variously referred to as SDMS, DMS, EDMS, ERMS, CMS, ECMS, or any one of several other acronyms that really just mean "a safe, secure, searchable, collaborative and well-organized place to keep your digital data that helps you meet due-diligence, research and business goals.")
It can replace or be combined with other more expensive LIMS, LIS, file sharing and sample management systems to provide a total data management solution for your lab. It also supports automated data capture from instruments and off site partners and can even capture incoming email and attachments.
CERF features best-in-industry semantic metadata features that allow you to attach unlimited categories of rich, hierarchic metadata and ontologies to your files, and a powerful semantic search engine that makes it much easier to find key data years in the future, even long after the scientists who created it have left the organization. The search engine can be used to data mine, build precise cohorts of data from amongst an ocean of pooled, accumulated resources, dynamically update data cohorts in real time and identify key contributors to projects or content area experts among your staff.
Since the CERF system includes a feature-rich desktop application, seamless roundtrip editing and intelligent versioning of data files means that you can continue to use the specialized file types and editing applications that you already use today, but CERF adds security, access control, centralization, audit history and 21CFR11 compliance. No more clunky, multistep download > edit > upload > manual replace workflows and no more searching for the current version from among thousands of copies. The ability of CERF to "play nice" with your desktop apps using a compliant checkout – checkin system also allows for compliant offline editing, ideal when access to the server is not possible.
Full support for FDA monitored SOP and controlled document management with user approval and configurable renewal dates.
"From my vantage point as an industry leader responsible for Electronic Lab Notebook market engineering for 20 years, the CERF informatics framework provides several unique capabilities to scientific organizations. These are security, powerful search, and simplicity for users…"

Rich Lysakowski
Director of R&D and Informatics
CENSA, Inc.
Flexible, robust software architecture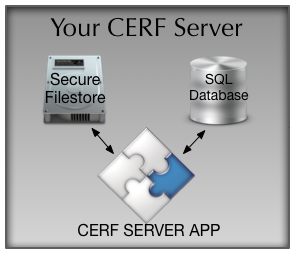 CERF ELN was designed from the ground up to be a true, enterprise-class Lab Notebook and data management solution . It can be deployed in a variety of ways that suit the needs and existing policies of your organization.
All data files stored in a secure file store in their native format
Your choice of My SQL, MS SQL or Oracle for the database backend
Automatic metadata extraction and best-in-industry semantic search engine
Easy one click export of data and metadata as .XML or human readable files
True cross platform flexibility and more secure than any browser based system
Fully compliant, without the effort
CERF ELN meets or exceeds 21 CFR Part 11, GLP, (and the ALCOA record management portions of GCP other GXP rule sets) and ISO regulatory requirements. Automatic audit trails, digital signatures, role-based access controls let researchers focus on their work, while protecting your IP. For a point-by-point description of CERF's compliance features, see our 21 CFR 11 page. CERF's internal rules and policies can also be easily configured to match your organization's best practices.
CERF ELN gives you total control of your data and system. You decide when to update. You decide what to do with your data.
CERF ELN does not "call home" and can be run in a sealed environment, so you can be sure that nobody, not even the US government, is browsing your data.
CERF ELN uses feature-rich client applications to access and work with your data, not a browser. This is highly desirable in regulated environments where it is becoming difficult to control browser updates that may break your validation and make it almost impossible to prevent your users from inviting malware in to your system by visiting infected web sites.
Comprehensive CERF IQ OQ PQ package and validation consulting available.
Data and application agnostic
Import any type of data using keyboard, voice dictation, drag-n-drop, or email into your notebook. Launch your favorite applications from within CERF ELN (e.g. MS Word, Excel, specialized scientific apps like SnapGene and ImageJ) while taking advantage of our version control, audit trails and secure collaboration. Files are housed in a secure filestore, never "blobbed" into a database, so CERF can accept any digital object in any format from any source, and you can always be sure that your data files can be extracted in the future in their original format.
Fast to implement and easy to use
Avoid the time and expense of complex, client-server deployments, but don't settle for basic point solutions. CERF ELN delivers fast-time-to-value, high scalability, strong IP protection and ease of use, delivering the best of both worlds.
Cross platform, desktop and mobile
CERF ELN is a true cross-platform solution, with support for Mac OSX, Windows, and a native app for Apple's iPad.
IT friendly
CERF ELN isn't just easy-to-use. We've made it easy for researchers to handle many tasks that require IT support on other products. Easily create new notebooks, manage groups for sharing, initiate and track signing, even reset passwords without IT involvement.
Who uses CERF ELN?
Our clients include researchers at the world's leading academic, corporate and pharmaceutical research organizations. Examples include a major global food conglomerate, multiple government labs and one of the largest petrochemical companies in the world. CERF is also used by a number of businesses that work in the regulated biomedical or healthcare sectors but do not actually perform bench science. CERF is flexible enough that it can be used by almost any business that simply wants good governance and a secure collaborative home for its documents and data. If your business is looking for a secure on-site document and data manager, read about the advantages of CERF here.