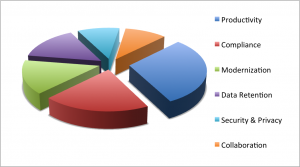 Better productivity, particularly better organization, is the number one reason given by clients for wanting an ELN in their laboratories, according to our 2011 client survey report1. In that case they are in the right spot, as electronic lab notebooks are reported to improve efficiency by 25% or more2. Other major driving factors for implementing ELNs in research environments included regulatory compliance, modernization, and interdisciplinary collaboration.
The survey was conducted among new CERF customers to discover what researchers themselves were looking for in an ELN solution today. Reasons given for choosing CERF over competitor ELN products included offering a comprehensive ELN solution, compatibility with both PC and Mac computers, our iPad app for portable note taking, and a reasonable price tag combined with a full feature set.
Top Reasons Given for Wanting an ELN
Productivity
Organization and keeping records in order
Streamline workflows
Manage data in one place
Improve SOP functionality
Better management oversight
Task accountability
Document patent/time to invention
Compliance
Witnessing notebook entries
Timestamps
Regulations
GxP Compatibility
ISO Certification
Solid documentation
"As [our organization] is a publicly traded company, [we] needed to be compliant with regulatory agencies"
Modernization
Get off paper notebooks
Incorporate electronic media types
Virtual corporations using remote collaboration
"Trying to get off paper and streamline the process"
Data Retention
Employee Turnover
Graduating Students
Rotating Fellows
Security & Privacy
Interdisciplinary Collaboration
Why Choose CERF?
Overall ELN concept
Combination of document management and notebooks in one system
Ability to hierarchically organize data into Filing Cabinets, Notebook Collections, Notebooks, Sections, Pages
Ease of use
Forms-based entry capability
Did not require Oracle
"Toyed with others… but CERF had everything"
Cross-Platform & Mobility
Wanted something more than just web-based [platform]
Staff use Mac OS (50% of responders use Macs or combination of PCs/Macs)
iPad tablets to replace PCs in lab settings
"iPad for CERF [is] great in the laboratory because bringing a paper notebook into the laboratory is too dangerous. We bought extra licenses for those working in the laboratory."
Sales representative / Support Staff
Ability to meet deployment deadline
In-person demo
Training
Understanding of researcher needs
Clients said they were "very happy with the speed the server was ready" and "post-sales training was excellent"
Collaboration
Works well for multidisciplinary research
Customizable
One customer stated a competitor was "very expensive, too rigid… too document centric."
Reasonably Priced
"Needed privacy and compliance with a reasonable price tag"
These findings reflect the real reasons scientists are choosing to work with ELNs in the current market. More information about how ELNs meet these needs can be found in our article "Why You Need to Buy an ELN Today," which has other examples of solutions that ELNs provide such as minimizing financial costs and breaking the "reinventing the wheel" cycle.
1. 2011 CERF Post-Sales Survey Report, Rescentris, Inc. Marketing Department. Names/Identities of clients and competitors in survey responses have been removed in the interest of privacy.
2. "Lab Notebooks Offer Efficiency Gains: ELNs Help Companies Achieve their Goals by Providing Meaningful Workflow Improvements" Gail Dutton. Genetic Engineering & Biotechnology News http://www.genengnews.com/gen-articles/lab-notebooks-offer-efficiency-gains/1951/