The best news this year for CERF users….
Announcing CERF Update 4.5.0.27.
CERF Server version 4.5.0.27 is now available and recommended for all users. This is the first update created entirely by Lab-Ally LLC.
This update includes:
Critical security patches and improvements.
Updated core components, including Apache Tomcat.
Improved PDF Printing.
Our new CERF Export Management Tool, which can be used to convert all content and CERF metadata from downloaded .ZIP CERF collections (file cabinets and notebooks) into convenient human-readable files, logically organized into directories and reconstituted into their original file formats.
Available crystal reports templates for even more sophisticated mining of data and user metrics. Contact us for details.
Since this CERF update includes important security updates, it is very strongly recommended for all CERF users.
To check the current version of your CERF server, log in to your web client as admin and check the landing page.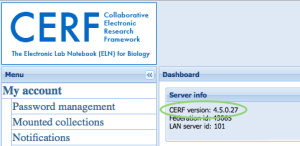 To have your server updated to the very latest and greatest, contact Lab-Ally support here.
To speak directly with their CERF support desk, call: US (614) 602-1526 or email here.
Lab-Ally offers flexible 12 month, 6 month and even month-to-month support contracts and we charge significantly less for support than the original manufacturer.
What's next for CERF?
Development of CERF 4.6 has started, and plans for version 5 are underway too. We believe that CERF will continue to be the best ELN available for small / medium commercial and biomedical labs with stringent compliance demands, sophisticated data mining requirements, and an absolute need for complete ownership and control of their own data.
Organizations considering an economic, large-scale institutional deployment of a general purpose ELN to an entire university or research institute should consider Lab-Ally's other ELN product, RSpace, which was built specifically for that purpose.