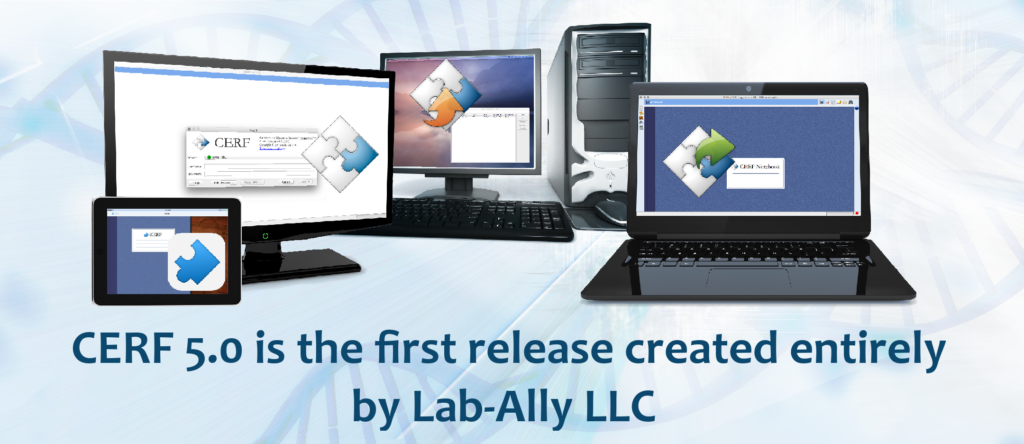 CERF 5.0 is the first version of the CERF ELN system created entirely by Lab-Ally LLC. Engineering efforts for this release have focused on redeploying the CERF source code to a modern, stable, fully integrated and highly collaborative development and support environment which will serve as CERF's new permanent home. This modern development environment will allow Lab-Ally to move quickly and efficiently forward with our new and refocused roadmap.
CERF 5.0 new features:
Updated core components; Java, Tomcat, ActiveMQ, and MySQL
Dozens of additional updated components
Completely refactored code and build process
Server support for modern email technologies
Updated to use latest encryption standards for data-in-flight
Apple code signed for security and ease of use with OSX
Numerous additional security updates and bug fixes
Fully compatible with latest hardware and network environments
Improved performance and stability
Better real-time collaboration
Improvements to the CERF search engine
Improvements to window management
Improvements to Note and CERF Relation creation
New, modernized look and feel
removed deprecated features
Improvements to "edit with…" and "view with…" workflow
New, inline plain text (.txt) entry type, compatible with both iPad and desktop app editors as well as other external tools.
All new mobile iCERF App for iPad, available on iTunes store
Refactored CERF Automaton for data ingestion at the source
All new CERF Exporter for bulk export of data and metadata
CERF Web App updated and compatible with all modern browsers
All new installers for trouble-free deployment
Improved and thoroughly updated documentation on cerfsupport.com or as downloadable PDFs
Improved audit trail details and ability to export filtered audit history for external analysis
Third party, in-situ, compliance validation ready – IQ/ OQ/ PQ assistance available.
Free live refresher/ upgrade training for all existing CERF customers. Just send us a message to get your session scheduled.
Meanwhile, the CERF 5.0 ELN system preserves all same the robust capacities, ultra-long-term stability, and 21CFR11 compliance that users have relied on for years.
Call us at +1 614.407.4547 or contact us online to get started with CERF 5.0.
Product Focus
CERF 5.0 and subsequent versions planned for 2017 and beyond focus on the product's strengths: ultra-long-term data storage in a perpetually licensed system and seamless round-trip editing using the applications that your users already use, as well as version-controlled document and file management. CERF also focusses on providing in-system display of commonly used file types, the ability to represent external entities such as samples, and continuously enhanced security, compliance and audit capabilities.
In this latest version, CERF's already best-in-industry semantic search engine is more powerful than ever, and now allows users to search for specific CERF resource IDs, or limit searches to specific file types or collections, better facilitating your organization's ability to quickly locate key resources from within an ocean of data or documents accumulated over years or decades of use. In subsequent releases, the CERF search engine will also become increasingly important as a tool for building dynamically updated data sets and for the selective export of data, files and information summaries that can then be further analyzed with external tools that Lab-Ally is developing.
Flexible Deployment Options
CERF 5.0 can be deployed on a physical or virtual server, or on a cloud host of your choice. For maximum longevity and future-proofing we always recommend an on-site physical server that will be largely immune to changes in technology trends around it in the years to come and will give you the total control of your own data.
Affordable in the short and long term
The CERF ELN system is a sophisticated premium system that costs just a fraction of comparable high-end systems. Additionally, support fees are optional, meaning that if you don't purchase our affordable annual support contract, that's fine, you won't get the software updates, help desk or consulting services, but your perpetual license (and therefore access to your CERF system and data) will last forever, even if you never pay us another dime. If your future budgetary picture is unclear, we can even negotiate special terms where you make a one-time payment and then never pay again…. ever. This is just one more example of the way that CERF distinguishes itself as the best ELN for long-term use.
Data Security that you control
Don't trust the cloud to store your intellectual property? We don't blame you. CERF 5.0 is one of the only ELN systems available that uses no external internet-based components or external license servers. CERF never "calls home" and can be used behind stringent firewalls or even in a completely sealed LAN environment. Since CERF uses its own feature rich client application, you don't have to worry about spontaneous browser updates you don't want and can't control, nor do you have to worry about your users accidentally visiting malware and phishing sites that can pose a serious security risk to your priceless data and IP.
CERF 5.0 is the award winning, 21CFR11 compliant, ultra-long-term lab data and document management system from Lab-Ally. Talk to us today to learn how we can help you protect your knowledge assets and remove barriers to Good Laboratory Practices so you can do great science.
CERF 5.0
Better.
Stronger.
Faster.
We have the technology.